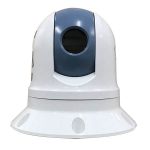 IRIS290 Single Payload Thermal PTZ Camera
Superb Quality 384 x 288 Resolution – 44% Higher than Leading Cameras in it's class
19mm Athermalized Lens
Gyro Stabilisation
6 Colour Palettes
ICE™ Image Contrast Enhancement
4x Digital Zoom
100 User Preset Positions
Auto-Cruise and Scan Functions
Pelco-D Protocol
High Precision Positioning
On Screen Positional Indicator
Wide Operating Voltage Range: 8~36VDC
Fully Water Proof (IP66)
MIL STD 810 Certification for Shock & Vibe / Sand & Dust
Low Cost!
Description
Product Enquiry Form
Downloads
Description
IRIS290 Thermal Imaging Night Vision PTZ Camera with Gyro Stabilisation
384×288 Resolution, 19mm Lens, Colour Palettes + Image Enhancement
Using the new Q+ Thermal Core from Iris, the IRIS290 uses superior thermal imaging technology to extend your time and improve your safety on the water – Day and Night – Now with Gyro Stabilisation as Standard!
Thermal cameras work just as well in the day as at night, and can help to see through haze, fog and glare as well as in pitch black. Not only are thermal cameras excellent tools to pick up objects not detected or unrecognisable by radar, but they are also essential tools in man overboard situations. Should a friend, family or crew member go over board, your Iris thermal camera will spot their difference in temperature easily against the sea and sky. In fact, Iris thermal cameras, with a sensitivity of <50mK are so good, they will display the reflection of clouds on the water in the dead of night.
The IRIS290 boasts a resolution of 384 x 288 pixels, which is 44% greater than other cameras in its class. It's higher resolution not only mean improved pictures, but also improve digital zoom performance and offer a greater field of view from the 19mm lens.
The camera also features six new colour palettes to help you distinguish objects in different conditions and ease viewing at night, and Iris's superb ICE™ Image Contrast Enhancement feature to boost clarity in scenes of low thermal contrast…
The IRIS290 has continuous 360˚ pan operation and a 210˚ tilt range and features user definable preset memory positions, a variety of scans and tours – with adjustable speed settings, manual shutter control and automatic standby operation to preserve the life of your camera.
And NEW for 2020, the IRIS290 now ships with Tilt Axis Gyro Stabilisation as Standard – offering incredible value for money.
We've also made the camera extremely easy to install by combining the power, video and data signals into a single CAT5e connection*. This not only makes your installers life easier, but reduces costs!
Iris's goal is to provide  essential, even life saving, thermal technology at an affordable price. Like all cameras in the NightRunner range, the IRIS290 is a fraction of the cost of it's competitors, opening up this amazing technology to the wider boating market…
*Although CAT5e/CAT6 cable is used, the IRIS290 is NOT an ethernet device
Have a question, or require some more information about this product? Simply send us an email using the form below.