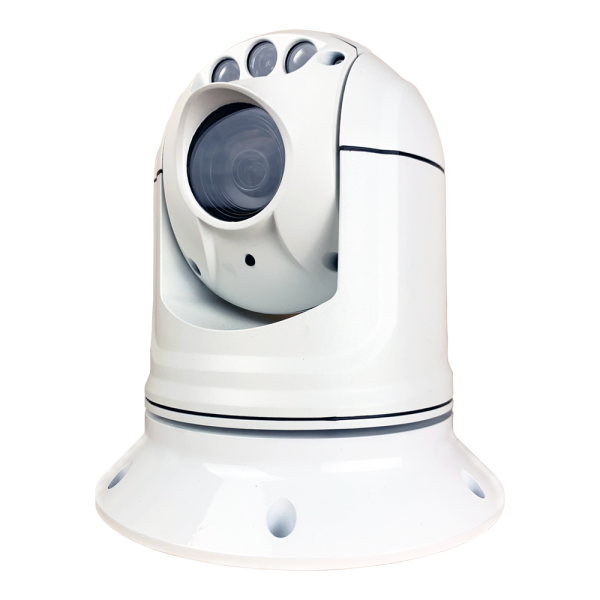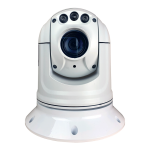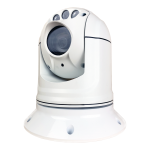 IRIS-S118 Sentinel Rugged Analogue PTZ Camera
Rugged Aluminium Case – Anodised & Powder Coated
Smooth, Accurate Pan and Tilt Control
Sony Camera Module with 36x Option + 12x Digital Zoom
Extremely powerful low light performance
High Power Infra Red LED Illumination – 150ft Range
Wide Operating Voltage – 8~30VDC
Single Umbilical Cable with Centralised Connector for Easy Installation
Install in Desktop or Hanging Orientation
Compatible with All MFD's Supporting Composite Video Inputs
IP66 Environmental Protection
Description
Product Enquiry Form
Downloads
Description
Designed to withstand the harshest conditions Iris Sentinel cameras are made from machined and cast aluminium body sections which are anodised and powder coated for maximum protection.
Featuring new high spec oil seals and improved stepper motors, our Sentinel cameras move quickly and smoothly with great accuracy.
The IRIS-S118 Sentinel PTZ houses a Sony block camera module with 580TVL analogue resolution, 36x Optical and 12x Digital zoom, auto and manual focus and a host of other features expected from a high end imager. An array of 4 high power second generation infra red LED's provide auto/manual illumination in low light to a range of around 150ft.
As with all Sentinel cameras, the IRIS-S118 is water resistant to IP66 and features a heater and anti-fogging facility. Connection to the camera is via a single umbilical cable that plugs into the centre of the base plate for easy installation.
IRIS-S118 cameras output analogue video and are directly compatible with all chart plotters that feature a composite video input. They can also be plugged into a CCTV monitor or into a TV via an AV input.
The camera is controller via two wire RS485 serial data using Pelco-D control protocols. The camera is supported by our IRIS595 and IRIS-TE01 controllers.
The IRIS-S118 is perfect as part of an on board security system and as a tool to enhance situational awareness, whether deployed on a vessel at sea or used on a land vehicle such as fire and police vehicles, safari and animal management trucks or simply just as an aid to guide you through the night in unlit areas.
Have a question, or require some more information about this product? Simply send us an email using the form below.