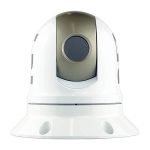 IRIS390 Single Payload Thermal PTZ Camera
Superb 640 x 512 Thermal Detector Resolution
25mm Fixed Athermalized Lens
Gyro Stabilisation
Detects Differences in Temperatures as Low as 50mK to Build Thermal Image
Compact, Lightweight & Easy to Install
Fully Controllable Housing with 360˚ Rotation and 210˚ Tilt
6 Reversible Colour Palettes
ICE™ Image Signal Processing
4x Digital Zoom
100 User Preset Positions
On Screen Positional Indicator
Auto-Cruise and Scan Functions
Pelco-D Protocol
High Precision Positioning
On Screen Positional Indicator
Wide Operating Voltage Range: 8~36VDC
Fully Water Proof (IP66)
MIL STD 810 Certification for Shock & Vibe / Sand & Dust
Description
Product Enquiry Form
Downloads
Description
IRIS390 Thermal Imaging Night Vision PTZ Camera with Gyro Stabilisation
640×512 Resolution, 25mm Lens, Colour Palettes + Image Enhancement
With an advanced Vanadium Oxide 640X512 pixel thermal core at its heart, the NightRunner 390 gives navigators operating in total darkness the ability to detect a vessel at nearly 3 kilometers, and gain full recognition of the vessel at .7 kilometers.   In the event of a man-overboard situation, the high-def NightRunner 390 can detect a human at 1.15 kilometers and provide recognition of that person at 320 meters.  This matches the performance of competitive high-def thermal camera systems currently selling for far greater price tags.
The NightRunner 390 is no stripped-down, price-point camera — far from it, in fact, offering a 25mm lens, 4X smooth digital zoom, wide 24.8o field of view and full PTZ capabilities housed in the streamlined NightRunner body found on vessels around the world.    The IRIS390 also features seven levels of Image Contrast Enhancement (ICE®) to further sharpen target detection and identification in the most challenging conditions, and NEW with 2020, NightRunner cameras feature Tilt Axis Gyo Stabilization as Standard!
The camera also features six colour palettes — Greyscale, Ocean Blue, Inferno, Full Spectrum, Arcus and Memorium — all with reversible hot-to-cold polarity.   This gives operators the ability to select the presentation mode that best suits their type of boat, operating environment and personal preference, further enhancing their safety and enjoyment during nighttime adventures.
As all members of the popular NightRunner family, the IRIS390 is housed in a UV-stabilized, IP66 waterproof ABS cowling locked to a sturdy aluminum mounting base.    Built for long-term use in the harsh marine environment, this housing also meets Military Standard 810E for shock/vibration resistance, as well as sand/dust intrusion.
Operation is simple and intuitive using Iris' range . of controllers, letting boaters quickly zoom in, pan over a full 360o rotation or tilt the camera over a 210o range with smooth, continuous motion.  Video from the NightRunner 390 can be viewed on dedicated marine monitors or all popular brand chartplotters/Multi-Function Displays via composite video input.    Measuring roughly 6.2" high by 6.7" in diameter and with just a single 7mm diameter cable to be run from the center of its base, the NightRunner Solo+ easily installs in a wide variety of locations and surfaces.  It can be mounted either ball up or ball down, further enhancing its versatile location on today's modern vessels.
Have a question, or require some more information about this product? Simply send us an email using the form below.