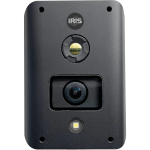 IRIS-IX8 Dual Sensor Temperature Measurement Camera
• 256×192 Thermal Resolution• 1920×1080 Visible Camera• IP & Analogue Outputs• 16x Digital Zoom

• Alarm Contact

• <65mK Sensitivity

• IP66 Environmental Rating

• Extremely Robust Cast Housing

• Multiple Temperature Measurement Rules

• Motion Alarms

• Object Left / Object Removed Alarm

• Temperature Range -40˚~+150˚C

• Image Enhancement

• Easy to Install
Description
Product Enquiry Form
Downloads
Description
The IRIS-IX8 Thermal Monitoring Camera provides boat owners, engineers, managers and mechanics peace of mind by monitoring critical equipment on board or in other hazardous environments. Use the IRIS-IX8 to keep check on engines, exhaust manifolds, electronics cabinets, shaft bearings and other vital equipment on board before serious problems develop.
The IX8 isn't limited to marine applications. The camera is a vital tool for any process or application where temperature could be an issue, such as data center and control room monitoring, within electrical cabinets and as part of manufacturing and production lines. The IX8 can be used as a presence detection tool for monitoring Illegal Encroachment into protected areas.
With various different methods of measuring temperature (including temperature increase, temperature comparison), alarms over IP and via contact closure, motion detection, left object detection and object removed detection, the IX8 is a powerful detector with added features to complement your on board security system as well as your fire safety system.
The IX8 is nitrogen sealed and waterproof to IP66. Its housing is extremely rugged, cast from toughened aluminium and finished with a protective coating.
Have a question, or require some more information about this product? Simply send us an email using the form below.