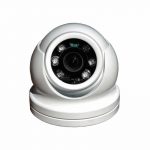 IRIS460 Fixed Mini Dome Camera
Amazingly Small Housing – 58mm x 57m
Hi-Def 3MP 2048 x 1536 Resolution
True Day Night Operation with Mechanical IR cut-out Filter
12VDC & PoE IEEE802.3af Power Options
Supports H.264 compression with dual streams.
Wide Dynamic Range / Digital Noise Reduction Features
Compatible with Raymarine / Axiom Chart Plotters running LH2 and higher
Compatible with Simrad, Lowrance & B&G
Compatible with Furuno Software running TZ4.1 and above
Garmin Compatibility in conjunction with CMAC Systems
Compatible with IRIS HVR and IP Switchers for integration with MFD's supporting Digital (HDMI / DVI) Inputs
ONVIF Profile S Standard
PoE 802.3af Compliant 12VDC
Description
Product Enquiry Form
Downloads
Description
Improve visibility in and around your boat or vehicle with the best selling IRIS460 miniature fixed IP Camera.
Only slightly larger than a golf ball, measuring only 58mm in diameter by 57mm high, the IRIS460 is the worlds smallest, waterproof, marine IP camera, which means boat owners can now install reliable, high definition cameras on board, for safety, security and surveillance, discreetly, without impacting the look of the vessel.
Because of its compact size, image quality and low cost, the 460 is a great all-round solution for a multitude of onboard applications, such as as a back-up camera, for deck and companionway monitoring, as a docking or engine room camera and as part of a vessels security system.
Producing crisp, 2048×1536 3MP resolution images, the 460 is available in two power options:- 12VDC or with a PoE Adapter, and is compatible with Raymarine  (Lighthouse 2 and above), Navico (Simrad, Lowrance, B&G) and Furuno (Time Zero 4.1 Software and above) MFD's. Compatible with Garmin when used with our CMAC range of switchers and recorders.
In-Built Infra-Red LEDs operate automatically in low light to provide clear visibility in pitch black conditions, to a range of around 10 meters.
Featuring H.264 compression, the video of the IRIS460 stream efficiently around your onboard network to reduce latency issues, and the camera also supports multiple protocols as well as being ONVIF Profile S Compliant.
The IRIS460 comes as standard with a 3.6mm lens providing 80 ̊ Horizontal Field of View. A Wide-angle 1.8mm option is available offering 125˚ HFOV as well as a 2.8mm option which provides 110˚ HFOV.
Compatible with Raymarine / Axiom chartplotters running LH2 and above, Navico brands such as Simrad, B&G, Lowrance and Furuno Timezero software v4.1 and above. Compatible with Garmin in conjunction with Iris CMAC products.
Have a question, or require some more information about this product? Simply send us an email using the form below.