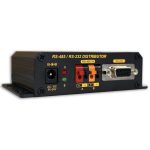 EXP0204 RS485 Serial Data Distributor 2×4
2 x RS485 Serial Data Inputs
1 x RS232 Serial Data Input
4 x Balanced RS485 Serial Data Outputs
Broadcasts telemetry data to cameras, matrices etc…
12VDC Operation – low power consumption
Compact screw mount housing
Simple Push Terminals to quick and easy connection
Description
Product Enquiry Form
Downloads
Description
For systems with multiple PTZ cameras and controllers, serial data control through DVR's or encoders and for ancillary equipment such as video switching matrices, Serial Data Distributors held to simplify the installation by providing a central point to connect data lines, whilst balancing the control signals, filtering out noise, preventing dropped packets or over-runs and broadcasting commands across an RS485 network.
The IRIS-EXP0204 is a small form-factor module with two RS485 data inputs, four RS485 data outputs and an additional RS232 data input.
Any device that controls camera movement, or switches a video matrix is regarded as a controller. RS485 data from control devices connects to an input.
The IRIS-EXO0204 operates a wide voltage range of 9~24VDC and draws very low power. Data lines connect into the unit by means of push-in connectors.
Any device that can be controlled, such as a pan tilt zoom camera or video matrix is regarded as a slave. Data lines to slave equipment connects to an output.
Not only can the IRIS-EXP0204 be used to drive up to four slaves (cameras, matrices etc) from up to 3 control devices (two with RS485 data lines such as our IRIS516 or IRIS595 joystick controllers or our range of Digital Video Recorders and a third input for RS232 control), but it can also be used to provide extra inputs for larger scale systems by 'daisy chaining' a data line from an output into another serial data distributor. For further details visit our Schematics page.
Have a question, or require some more information about this product? Simply send us an email using the form below.