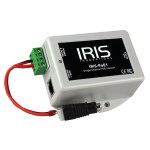 PoE01 Single Channel PoE Injector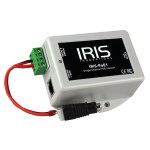 PoE01 Single Channel PoE Injector
Inject DC Power onto a single device
Wide Voltage Range – 6~36VDC Input
Delivers up to 48VDC
IEEE802.3af Compliant
Small Form Factor with moulded fixing points
Dimensions: 92mm x 84mm x 38mm
Power 16.8W
EN60945 Compliant
EN55022 (Class B)
EN50155
UL1950, XSA 22.2
Description
IRIS-PoE1
Single Channel Power over Ethernet Injector
Simplify your installation by only running a single CAT5 cable to your IP camera or other PoE Network device.
The IRIS-PoE1 is a compact single-channel power over ethernet (PoE) injector designed and certified especially for use in marine applications. Simply connect your camera or PoE device with a single CAT5 cable into the injector and connect the injector to your on board network. The IRIS-PoE1 uses high end buck-boost power management to facilitate IEEE802.3aF PoE operation across and extremely wide 6~36VDC input range, making it perfect for environments where input voltage may not be stable or where the required 48VDC is not available.
Simple to install and reliable, the IRIS-PoE1 features plug and play functionality and requires no setup.
The IRIS-PoE1 Gigabit Ethernet Injector has been fully certified to comply with the following standards for use in the marine industry:
IEEE802.3af EN60945 EN55022 (Class B) EN50155
UL1950, XSA 22.2