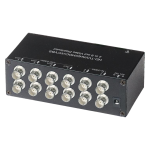 VDA0408 Video Distribution Amplifier
Four Composite Video (1VP~P / 75Ω) Inputs
8 Composite Video Outputs – 2 Per Channel
12VDC Operation – Very low power
Boosts Video to 1VP~P
Easy 'Plug & Play' Installation
Very Small and Compact Housing
LED Status indicator
Description
Product Enquiry Form
Downloads
Description
The IM-VDA-0408 is an extremely compact Video Amplifier that boosts / attenuates four composite video signal to a 1 volt peak to peak level and distributes the signal through 8 outputs (2 outputs per video input).
This makes it an ideal addition to your on board setup where video signal levels drop across long cable runs or where the signal needs to be fed into multiple screens.
The VDA0408 has a small footprint and features fixing slots moulded into its housing making installation quick and simple.
Video connectors (inputs and outputs) are standard composite video female BNC type and the unit can be powered from a 12VDC input.
Have a question, or require some more information about this product? Simply send us an email using the form below.