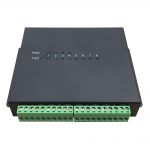 EXP0408 RS485 Serial Data Distributor 4×8
4 x RS485 Serial Data Inputs
8 x Balanced RS485 Serial Data Outputs
Broadcasts telemetry data to cameras, matrices etc…
12VDC Operation – low power consumption
Tough but compact metal case
Simple Screw Terminal connectors for easy installation
Description
Product Enquiry Form
Downloads
Description
For systems with multiple PTZ cameras and controllers, serial data control through DVR's or encoders and for ancillary equipment such as video switching matrices, Serial Data Distributors held to simplify the installation by providing a central point to connect data lines, whilst balancing the control signals, filtering out noise, preventing dropped packets or over-runs and broadcasting commands across an RS485 network.
The IRIS-EXP0408 has capacity for 4 control devices such as controller joysticks or DVR Data Inputs (RS485) and can control up to 8 slave devices such as PTZ cameras, video switching matrixes, DVR data inputs (RS485) etc.
The EXP0408 is built into a compact but robust metal case with high quality screw terminal contacts and LED status indicators for easy fault finding.
Have a question, or require some more information about this product? Simply send us an email using the form below.