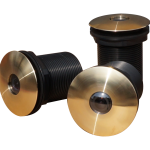 IRIS730 High Resolution Analogue Through Hull Camera
Features multiple formats – CVBS (Analogue) / HD-TVI / HD-CVI and AHD. PAL/NTSC Switchable
HD-TVI/CVI & AHD provide Hi-Def Video in Real Time without Network Latency Problems
Rugged Hard Anodised Case
Aluminium Bronze Bezel
IP68 Waterproof
Plug and Play Connectivity
Low Power
Description
Product Enquiry Form
Downloads
Description
Introducing Iris's 7xx series of Through Hull Cameras, providing fantastic sub surface visibility in Analogue, HD-TVI / HD-CVI / AHD and IP Formats
For viewing on all chartplotters with composite video input, TV's with AV input or for interfacing into a PC via a video capture device, the IRIS730 features a high resolution analogue camera with SONY EFFIO-P chipset, 1000TVL resolution, WDR (Wide Dynamic Range) and DNR (Digital Noise Reduction) processing as well as user configurable setup parameters via a plug in configuration key pad.
The IRIS730 can also be configured to output HD-TVI / HD-CVI and AHD analogue High Definition formats, providing up to 1920x1080P resolution in real time (without the latency issues sometimes apparent with IP systems). Set to TVI and use in conjunction with Iris HVR's or Video Switchers with HDMI output for real time high definition on MFD's with digital inputs, such as Garmins 8000 series chart plotters.
Iris's Through Hull cameras have an aluminium bronze bezel, hard anodised body and reinforced, scratch resistant, optically clear lens window.
Iris Through Hull cameras produce excellent, high resolution video and are ideal as part of a sports fishing monitoring system, for sub-surface security, monitoring running gear or simply as a camera for watching the amazing world beneath the waves!
Have a question, or require some more information about this product? Simply send us an email using the form below.