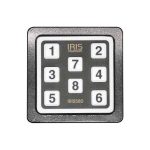 IRIS580 Waterproof Switcher Keypad
Small and Unobtrusive
Very Easy to Install
Tactile Buttons with Gold Plated Dome Contact
Use to Select up to 8 cameras on your TV, Monitor or MFD
Uses Shielded CAT5 cable (not ethernet) to Simplify Installation and Reduce Costs
Hard Anodised Bezel
IP66 Environmental Protection
Perfect for installation onto boat helms or vehicle dash panels
Description
Product Enquiry Form
Downloads
Description
The IRIS580 Waterproof Switcher Keypad is a small, clean, flush mounting membrane keypad switcher with 8 camera input buttons used to select cameras connected to the IRIS608 and IRIS1608 video switchers.
Measuring only 7cm x 7cm and only 8mm thick, the keypad, with its hard black anodised bezel is extremely simple to install (simply drill a 20mm clearance hole for the threaded connector then fix into place with the connector lock-nut) and is compact unobtrusive so as not to clutter the helm or dash space.
Each contact is made from gold platted reinforced micro dome contacts for reliability, and provides a tactile response. The keypad connects to the main switcher using shielded CAT5 cable and the keypad is supplied with a waterproof field connector for added protection against the elements.
Have a question, or require some more information about this product? Simply send us an email using the form below.