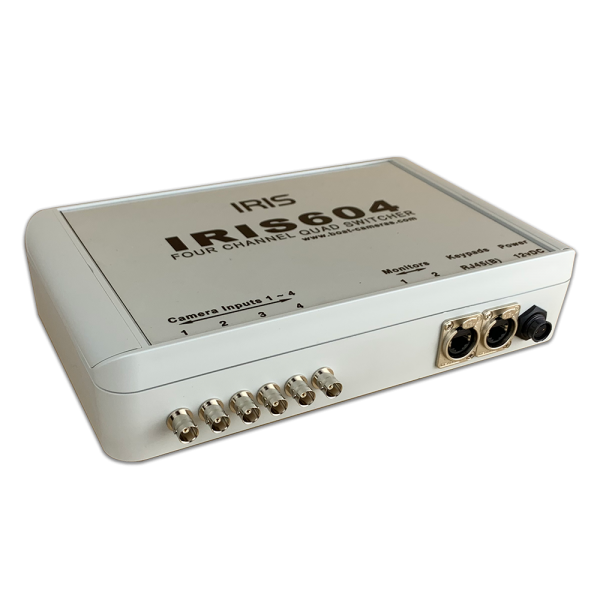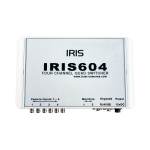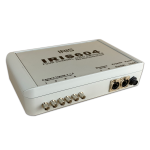 IRIS604 4 Channel Analogue Quad Switcher
Display 4 Camera Inputs & Quad View on Your MFD
Analogue (CVBS) & HD-TVI with HDMI Ouput Models
Analogue Model (IRIS608) features 2 x Composite Outputs
Split Screen & PiP Displays
Supplied with 1 x Compact Waterproof Keypad
Keeps Messy Wiring Out of Site
2 x Keypad Ports (Additional Keypads Sold Separately)
Robust Moisture Resistant Case
Keypad IP66 & UV Stabilised
Keypad measures 7cm x 7cm
Description
Product Enquiry Form
Downloads
Description
If you want to display multiple images at once on your screen then you're going to need a Quad Switcher. With 4 camera inputs, 2 outputs and now supporting multiple split screen and picture in picture options, the IRISx604 is essential for on board situational awareness and especially for keeping an eye on all angles of your vessel at once whilst docking
The IRIS604 Quad Switcher gets stowed away, well out of view, and is controlled using the IRIS540 keypad (supplied), which is waterproof, UV stabilised and only measures 74mm². Multiple keypads can be added during installation to increase control options.
The IRIS604 supports standard analogue video (CVBS) compatible with all chart plotters with composite video inputs and can also be supplied in HD format to support HD-TVI camera inputs with a single HDMI Hi-Def digital output (IRIS1604 Model)*
Our new switcher keypads are now shipped with a built in RJ45 socket, which means installers no longer have to spend time extending cables. Simply run your own CAT5/CAT6 cable as required**.
The IRIS604 can display individual camera inputs, all 4 cameras in a quad formation, split screen and picture-in-picture presets. Images can even be frozen on screen for detailed analysis.
Predominantly designed as a component of a multi-camera docking system, the feature rich IRISx604 can also be used as a vital component of any on board security system.
*Interfaces directly with HDMI inputs. For other digital inputs such as DVI / HD-SDI adapters are available. Contact Iris for further details.
**Use shielded CAT5 when extending cables.
Have a question, or require some more information about this product? Simply send us an email using the form below.