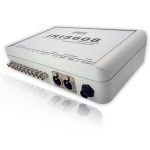 IRIS608 8 Channel Analogue Quad Switcher
Display 8 Camera Inputs on Your Chart Plotter
Supports Analogue Cameras & Features 2 x Composite Outputs
Supplied with 1 x Compact Waterproof Keypad
Keeps Messy Wiring Out of Site
2 x Keypad Ports (Additional Keypads Sold Separately)
Robust Moisture Resistant Case
Keypad IP66 & UV Stabilised
Keypad measures 74mm x 74mm
Description
Product Enquiry Form
Downloads
Description
The IRIS608 is a dedicated analogue marine video switcher featuring eight camera inputs which can be switched to two outputs to display realtime video from your standard definition Iris cameras on a suitable chart plotter or TV with AV input.
Compatible with all chart plotters that support composite video inputs the IRIS608 comprises a rugged control box and a low-profile, compact, waterproof keypad. The control box is installed safely out of sight so there are no unsightly cables whilst the keypad provide a simple, elegant control interface.
The 608 is shipped with a keypad included and there is a second port on the control box so you can connect an additional pad should you need to switch video from multiple positions.
Our new switcher keypads are now shipped with a built in RJ45 socket, which means installers no longer have to spend time extending cables. Simply run your own CAT5/CAT6 cable as required*.
The keypad measures a mere 74mm² and is UV stabilised. Our switchers have been designed exclusively for the boating market and there's nothing else like them!
*Use shielded CAT5 when extending cables.
Have a question, or require some more information about this product? Simply send us an email using the form below.